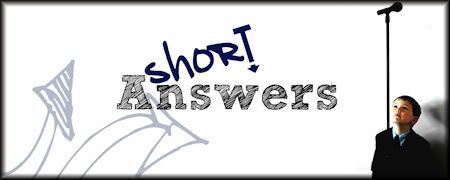 If you want to participate, you can link up
HERE
:
Where does popcorn come from?
R: Um. Bird Poop. Exploding bird poop. From the extreme heat of the desert.
J: Uh. Stores.
M: Corn kernels.
If you had to decide between eating brownies all day or going to the park all day, what would you choose?
R: Going to park.
J: Going to the park, because then I would throw up from eating too much brownies.
M: Which park?
Me: Just any park.
M: The park. Because I don't want to get sick. Because the park's more fun.
What's your favorite movie and why?
R: Don't have one cuz I like them all.
J: I like all of them. I don't have a favorite.
M: Monsters vs. Aliens because it's awesome. Wait, no. Veggietales!!
What exactly is it that an author does?
R: Um. Uses a gallon of ink a day. Or something...
J: What's an author?
Somebody that writes books.
J: Oh. They poop their pants. (I'm sorry, that's what he said. That's my weird little brother for you :P)
M: Tired all day. From writing.
If you could look just like anybody, who would it be?
R: Me, myself and I. But not Michael Jackson.
M: You. Without the pimples on your face. My big sister that loves me so much named Ashley.
Okay, nice answer, but did you have to mention my acne? I know I have zits, so stop telling me that. Anywho...