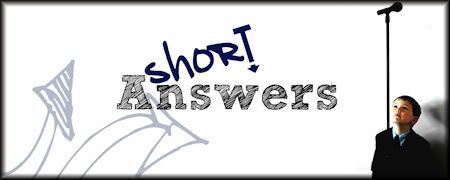 To participate, link up
HERE
What's better, butter or cheese?
R: Peanut butter
M: Is it just plain butter?
yup
Ew.
So which is better?
Cream cheese.
J: Butter
How are donuts made?
R: Um... dough mixed with smashed nuts
M: They have this big hunk of chocolate creme, cover it with dough, cook it, eat it
R: I'm changing my answer to I don't know, but they're very good
J: Get a bagel, and cut it, then put powder on it
Why do the trees change colors in the fall?
R: So they can stay in fashion
M: God made 'em like that
J: *thinks for a long time* I don't know.
What do broccoli, carrots, and cucumbers all have in common?
R: I don't know. They're all vegetables, okay, fine.
M: They're all vegetables. Oh wait, they're all nasty.
J: Broccoli... Cucumbers? They're all vegetables...
R: No idea. That's my answer
I'm asking you
I don't know. It's a stupid word that someone made up.
What's a tapestry?
And for the record, R isn't really a little kid, but his answers are still interesting.