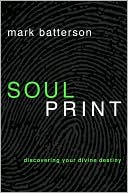 In Soulprint by Mark Batterson, he talks about finding who we really are -- God's masterpieces. He talks about how disappointments can redefine us and says that we should put confidence in God in those times. He tells us to embrace embarrassment, comparing it to the way David danced for joy even though he looked ridiculous. He closes with saying that "as we confess our sin, our past mistakes no longer define us. Christ's righteousness will define us."
I liked how he used David's life as an example various times, but I didn't like the second chapter very well. He says we should have "lifesymbols", meaning physical reminders of spiritual lessons. I understood the meaning, but I didn't really like the term, and something seemed slightly off.
Some good points were made, but there were things I weren't sure about in a few places, and the book as a whole didn't keep my attention very well.
I received this book for free from WaterBrook Multnomah Publishing Group for this review.